With Bluecare and Aquiline, you can easily track your Amazon deliveries. These services convert Amazon tracking numbers to BlueCare or Aquiline tracking numbers, which can be updated in your eBay orders and tracked on the Bluecare.express or Aquiline-tracking.com website. This also serves as proof of delivery for your eBay transactions.
You have two service options to choose from:
Convert only Amazon tracking numbers (1 BCE credit per conversion).



Convert all of your tracking numbers, including USPS/UPS/FedEX, using one ship-from address and same-day tracking update (1.5 BCE credit per conversion).

By using these services, your eBay store will have a permanent location, and your tracking number updates will be prompt, making your store less likely to be flagged as a resale store and more likely to be promoted on eBay.
Enable the Service
Make sure you have some BCE credits balance available. You can purchase them in your Yaballe Pricing page> Add-ons tab.

Go to Yaballe > SETTINGS > AUTO ORDERS > TRACKING CONVERSION



To enable the Convert all tracking numbers (instant & single sender address) option, you first need to type in your sender address details (AKA Ship From), and click the Verify Address button



Choose your preferred settings:



Convert only Amazon carrier (AMZL) tracking numbers - when selected (and BCE credit is available), it will convert only your TBA tracking to BlueCare, the ship from address in this case will be the original Amazon ship from address and not your single ship from address.


Convert all tracking numbers (instant & single sender address) - when selected (and BCE credits is available), will convert all tracking numbers to Aquiline, using the same Single Sender Address you defined in the previous step. The conversion will take place upon order, namely you will get the tracking number on the same day when your order is successfully placed.

NOTE: If you change your Tracking Conversion Settings, the change will apply only to orders which are imported to your SOLD ITEMS page AFTER the change took place.



Click the Save button on the button right



Things to check before using this service
Best practice: verify the same address in all these settings (for those you use):
Ship from address in eBay setting
Item location in Yaballe settings (Yaballe > Settings > EBAY POLICIES > MONITOR PROFILE > ITEM LOCATION)
Single Sender Address in Yaballe tracking conversion settings (Yaballe > SETTINGS > AUTO ORDERS > TRACKING CONVERSION) - as explained above
To verify this, follow these steps:
1. The item location of your future listings:
In Yaballe SETTINGS > EBAY POLICIES > MONITOR PROFILES add the address, which you wish to be considered as your eBay ship from address (make sure to check the ZIP is in fact a valid ZIP for the city & state you put in your settings):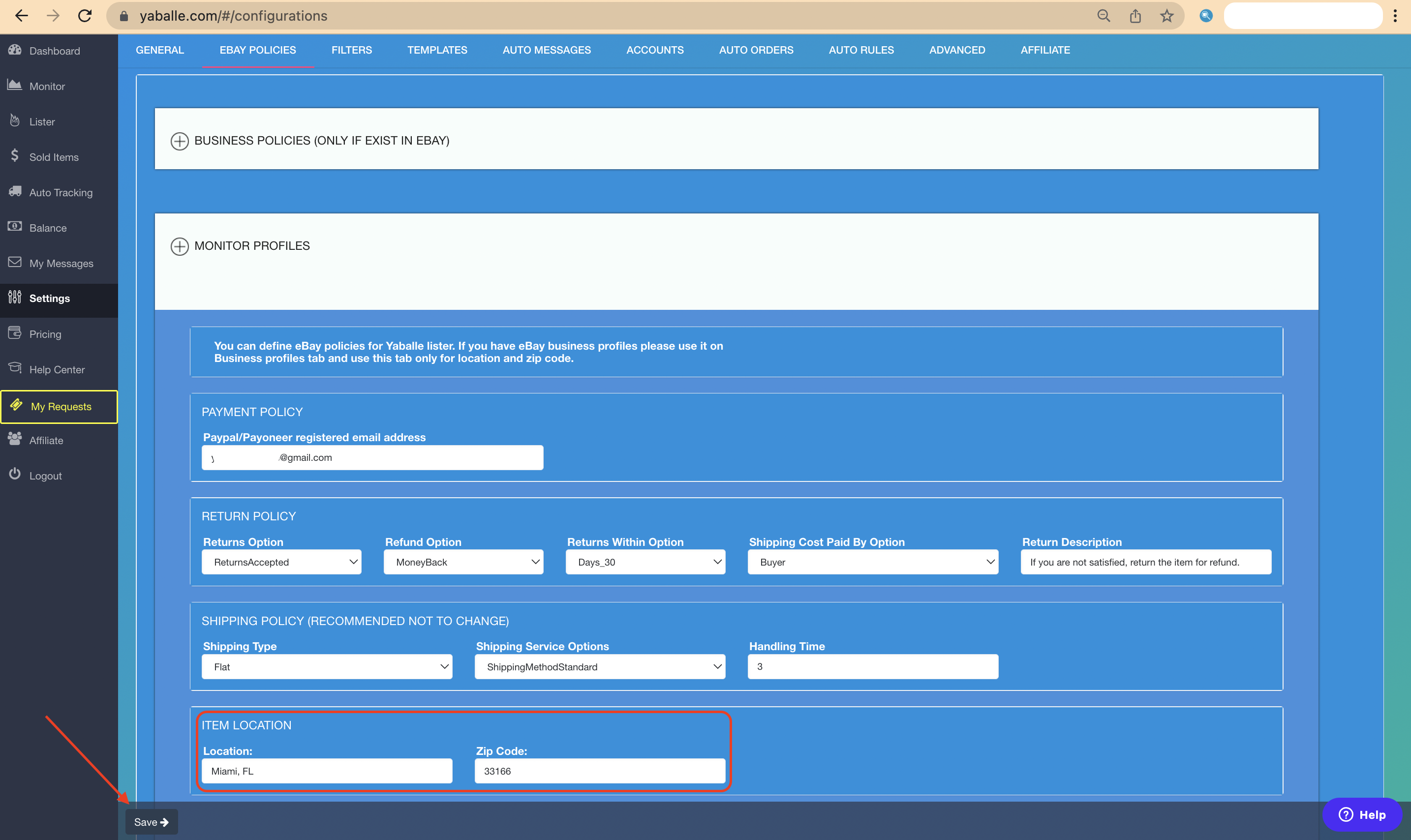 NOTE: These will NOT affect your existing listings.
To edit the item location of your existing eBay existing listings, go to your eBay Seller Hub -> Listings -> Active Listings, select the listings you want to edit in bulk (Edit Selected) -> choose Edit item location:
https://www.ebay.com/sh/lst/active
2. In order to change your shipping address and in eBay to match your BCE sender address, you need to edit your "Ship from address" in "My eBay" > Account > Addresses > Ship from Address:
https://accountsettings.ebay.com/uas/addresses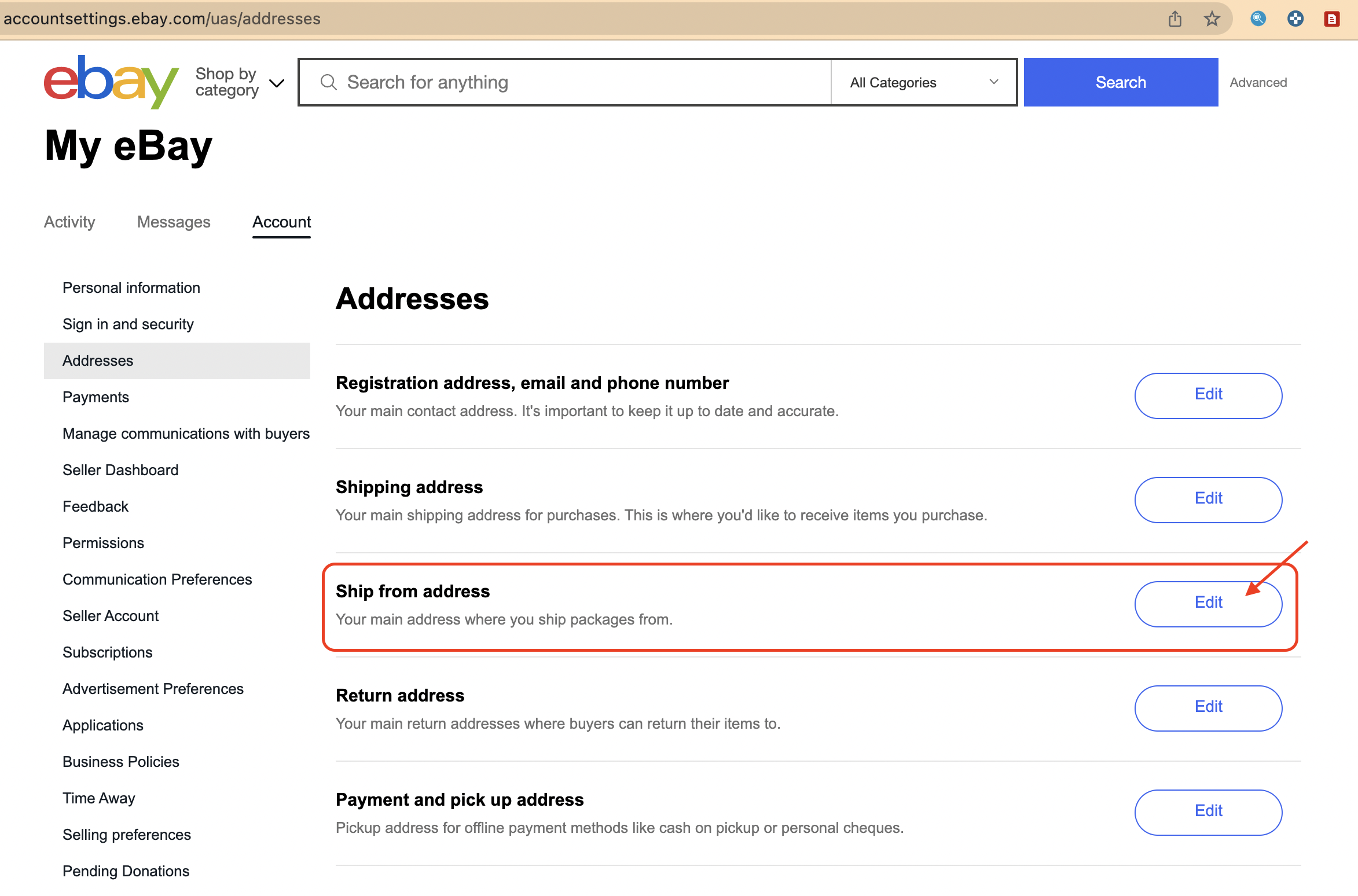 Congratulations, you are ready to go!